Liverpool Airport History
Liverpool Airport:
7 airlines

70 destinations

5 million passengers a year
Liverpool Airport history - how did it all begin?
The first scheduled flight from Liverpool airport occurred in 1930. The airport wasn't officially opened until three years later, in 1933. Increasing passenger demand led to a new passenger terminal and increased hangarage being built in the late 1930s. The airport was initially used for flights across to Ireland, due to the airport's extremely convenient location by the Irish Sea.
During the Second World War, the airport was used for testing the military aircraft that were built in nearby Rootes and Lockhead. The grass strip runways were replaced with hard runways. The airport was held for military use until 1961 when it was handed over to the local authority. After the handover, a new, longer runway was built on the site, and this was opened in 1966. Along with the new developments, the airport was granted permission to become a 24 hour airport.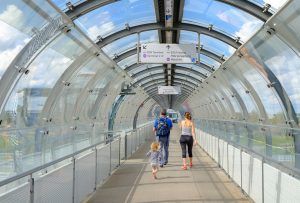 Liverpool Airport changed to a Liverpool Corporation airport in the 1970s. This did not last, as ten years later it was handed over to the five new Merseyside councils.