Liverpool Airport Taxi and Transfers
Welcome to your complete taxi guide for Liverpool Airport.
Skip straight to find our:
Get your taxi business in front of people traveling to and from Airport.
There are different options to suit you.
Add your Business
Estimated taxi prices: Liverpool Airport to Liverpool city centre
Find your way around Liverpool with a local airport taxi or cab. There's a range of options available - even 16 seater minibuses! - so it's all about discovering the best ride and taxi company for you.
Splitting the cost of a taxi between friends can be the cheapest and fastest way of getting you from Liverpool's John Lennon Airport into Liverpool City Centre.
Estimated taxi prices: Liverpool Airport to Liverpool city centre
| Vehicle | Single Trip | Return Trip |
| --- | --- | --- |
| Saloon Car (up to 4 passengers) | £43 | £60 |
| Estate Car (up to 4 passengers) | £50 | £69 |
| Executive Car (up to 4 passengers) | £60 | £87 |
| People Carrier (up to 6 passengers) | £67 | £98 |
| Executive People Carrier (up to 6 passengers) | £77 | £133 |
| 8 Seater Minibus (up to 8 passengers) | £103 | £148 |
| 16 Seater Minibus | £141 | £266 |
* Please note that these prices are only estimates. Fares can vary depending on routes, taxi firm rates and time of journey. Please contact a firm directly for a quotation.
Drop off and pick up fees
When arranging your collection or drop off, remember that there are 2 car parks in which you can agree to meet your driver; either in the Express Drop Off which has a £3 charge for up to 20 minutes, or the Drop Off 2 car park which is free for up to 40 minutes. Some companies may even offer a collection service within the arrivals hall in which your driver will be there to meet you - be sure to check whether this is available when you pre-book your taxi.
Where is the Liverpool Airport Taxi rank?
At the airport, the hackney taxi rank is situated right outside the terminal entrance to make your journey as efficient as possible. Only licensed hackney cabs are allowed to use this rank; if you wish to use a pre-booked minicab service (which can often save you money), they must use the car parks for picking up and dropping off.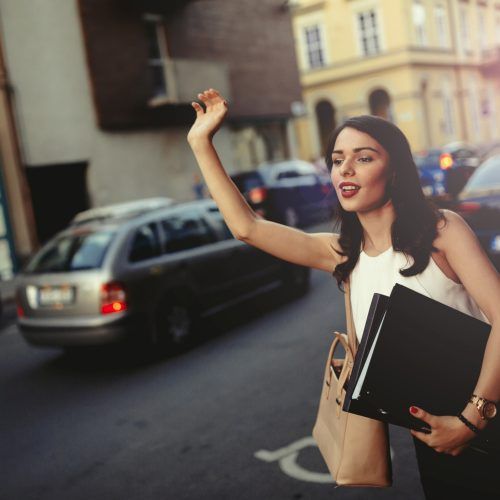 Types of Taxis you can get from Liverpool Airport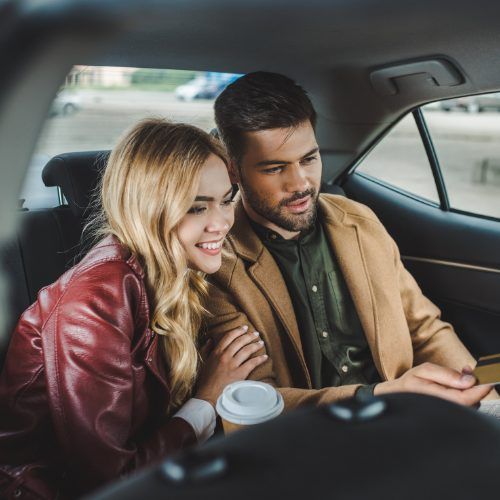 The most common taxi at Liverpool Airport is the saloon cab. This is your average car size - often it's a Hackney Carriage (the black London style ones), Toyota Prius or Ford Mondeo car. You should be able to recognise it as an official cab because of the heavy branding on the side.
Hackney Carriages will be available for all flight arrival times and most will be fitted with Chip, PIN and Go machines - keep an eye out in case you are short in cash!
Estate cars and business executive taxis are slightly more expensive but you get what you pay for. If you're travelling with a lot of luggage, a few more passengers or want an exclusive service with extras like today's newspaper, then these could be the taxis for you.
Chauffeur-driven executive cars can be costly for a trip from John Lennon to the city centre, but these firms often have business accounts and are a stress-free way to travel. Executive cars may also be able to supply provisions such as daily newspapers, refreshments and even electrical charging points and Wi-Fi
Minibuses is a slightly more expensive option, but if you have several passengers and lots of luggage, this is going to be the easiest way to travel.
If you're travelling in a large party, you might want to consider hiring a large minibus or coach. These can carry 16 to 25 people. Obviously, they are more expensive but if you're off on a Hen Do abroad or flying in with the team to watch the football, splitting the cost of a coach or minibus might actually be your cheapest option!
Quick Tip: Take note of a contact number for your driver, just in case you are delayed for any reason. This way, you can give them plenty of warning without the risk of them leaving. Most taxi companies have around a 45 minute grace period to allow for those inevitable delays and will often track your flight too, but you don't want to be left stranded with all your luggage!
Sightseeing in Liverpool
There is plenty to see and do in this thriving city, but let's start with the obvious - the love of The Beatles! No trip to Liverpool would be complete without visiting The Beatles Story - the largest, permanent exhibition devoted to The Beatles in the world! You can then venture to The Walker Art Gallery or perhaps take a stroll along The Albert Dock and stop by the Tate Liverpool to view hundreds of artists work from all across the UK. Be sure to check out the latest listings at The Echo which is home to plenty of live entertainment shows, from your favourite musicians to comedians and many more!